I have drunk coffee all over the world, which is why I can be confident when I say Puroast Coffee is one of my favorite coffees ever, and it is definitely the best low acid coffee.
I drank Puroast coffee for the first time about four years ago, and every time I am at home in the United States, it is my coffee of choice.
I first found Puroast coffee when I was searching for the best low acid coffee because after doing some research; I figured that a low acid coffee might be a better solution for me since I have Tourette Syndrome and drinking coffee makes my motor tics much more prevalent.
However, I love coffee, and I wasn't prepared to give it up.
Fortunately, Puroast low acid coffee works better than I could have ever expected, and now I have a type of coffee I can rely on that doesn't make my tics drastically worse, and tastes amazing!
Keep reading below to see my full Puroast Low Acid Coffee product review to learn more about why you should choose Puroast coffee, and why I believe it is the best low acid coffee!
I earn a commission if you make a purchase, at no additional cost to you. Thank you for the support!
You can also choose to watch my YouTube video on Puroast low acid coffee if you want:
Why Drink Low Acid Coffee?
Low acid coffee like Puroast coffee is a better option than many regular coffees because it is healthier and gentler on the body. Regular coffee can cause a variety of adverse health effects, such as GERD or acid reflux.
Furthermore, low acid coffee has more beneficial chlorogenic acid, which is a powerful antioxidant that provides many of the health benefits of coffee. According to a study published in The Journal of Agricultural and Food Chemistry,
"Chlorogenic acid degradation products, phenols, and a lactone were produced more by high roasting intensities than by low roasting intensities. The results of the present study suggest that controlling the roasting conditions according to the formation of particular chemicals can prepare a roasted coffee with preferable flavor."
In fact, the increased chlorogenic content of low-acid coffee is why I believe Puroast low-acid coffee is the best coffee for weight loss!
What Makes Puroast Coffee the Best Low Acid Coffee?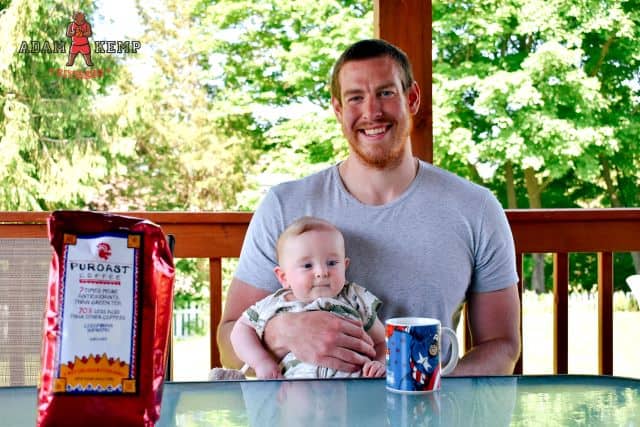 As you can find written on their website, Puroast coffee began in the Lara region of Venezuela, in the Andes Mountains.
There, the founders of Puroast coffee discovered the art of roasting coffee, and the difference that proper roasting has on the taste and quality of the coffee. The local coffee gurus taught the founders of Puroast how to roast coffee like they do, along with the best planting, farming, harvesting, and drying strategies to produce the best quality coffee.
As we discovered, the secret of the flavor is in the art of roasting, and after a lot of trials and taste testing with local coffee gurus, we learned how to roast just like the Coffee Grower.
After learning these techniques, the Puroast founders began using the system they learned in their home state of California. As you'll see the first time you drink Puroast coffee, the result is a quality of coffee that is strong and bold, but never jittery and gentle on your stomach.
For me, that means easy on my tics as well.
According to Dr. Shibamoto of UC Davis, research indicated that Puroast coffee had 70% less acid than other roasted coffee and seven times as many antioxidants as green tea!
As stated by Dr. Shibamoto,
"Our laboratory research shows other leading brands to have approximately three times more acid than Puroast."
No other low acid coffee has done this much scientific research to prove its acidity, which is one of the main reasons I believe it is the best low acid coffee. Along with my own experience, I believe it is undeniable that Puroast coffee is the best low acid coffee!
Puroast Coffee Flavors
Since now you know why Puroast coffee is the best low acid coffee, you'll probably want to know which flavors it comes in.
Puroast coffee flavors are:
Lost Art Blend
House Blend
French Roast
Espresso Roast
Colombian Supremo
Colombian Dark
Bourbon Pecan
Vanilla Caramel Kahlua
Nutcracker Sweet
Mocha Java
Vanilla
Hazelnut
Although you can find most of their flavors on Amazon, some of them are only available through their website from time to time.
Personally, my go-to Puroast coffee blend is the Organic House Blend, while I also love their French roast, Colombian Supremo, and Espresso Roast.
I earn a commission if you make a purchase, at no additional cost to you. Thank you for the support!
Where to Buy Puroast Coffee?
Although there are some stores that carry Puroast Coffee, the best place to buy Puroast Coffee is through their website or on Amazon because they have more options for Puroast Coffee roasts and flavors.
If you buy Puroast Coffee on Amazon through one of the links in this article, I will receive a small commission from the sale, which I greatly appreciate.
An additional advantage of buying Puroast Coffee on Amazon is the quick and efficient shipping process so that you can be drinking your Puroast low-acid coffee in only a couple of days!
I earn a commission if you make a purchase, at no additional cost to you. Thank you for the support!
Concluding Thoughts – Puroast Low Acid Coffee Review
If you are looking for a low acid coffee, Puroast should be the first one you try. Puroast has a scientifically proven formula for producing coffee that surpasses any other low acid coffees I have tried, and the taste is as good as any coffee I have had from the over 25 countries I have traveled to in my life.
Puroast also has a variety of flavors of low acid coffee, so you won't get bored with their coffee any time soon!
I believe Puroast coffee is the best low acid coffee, and I believe you will think so as well when you try it!
Drinking Puroast low acid coffee will help you get healthy and stay healthy!
I earn a commission if you make a purchase, at no additional cost to you. Thank you for the support!
Read Next: Coffee vs Pre Workout