Jump rope workouts are great for a wide variety of people. For athletes, jump rope workouts can help you get quicker and faster while also helping you develop knee and ankle strength. For people who want to get leaner and healthier, jump rope workouts are a great way to burn calories quickly and improve cardiovascular health.
I love using my RX Smart Gear Jump Rope year-round to stay in shape by doing quick, enjoyable cardio workouts.
Read below to learn about the benefits of jump rope workouts and the best jump rope workouts to get you in the shape you want!
Jump Rope Workout Benefits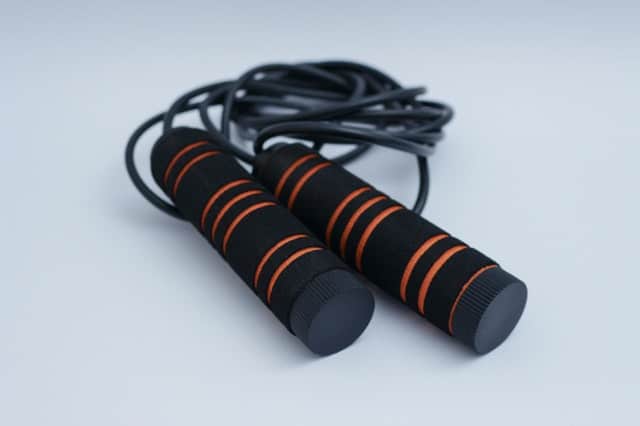 Jump rope workouts have many unique benefits. For a professional athlete such as myself, doing a jump rope workout every couple of days is an excellent way to maintain my conditioning while working on my speed and quickness.
Using a jump rope is an excellent idea for many people as a low-impact cardio workout. A jump rope is much easier on your joints than jogging or running!
There are many reasons to include jump rope workouts in your weekly routine. Check out some of the benefits below:
Jump Rope Workouts are Cheap, Simple, and Portable
One of the main benefits of jump rope workouts is that jump ropes are usually pretty cheap, and you can bring them almost anywhere.
Due to that, you can travel with a jump rope and use it conveniently literally anywhere in the world.
You can do jump rope workouts indoors and outdoors, and you can do them on a variety of different services.
Once you buy your jump rope, you can use it as much as you want!
You can certainly buy a cheap jump rope from your local sporting goods store, but if you want an amazing jump rope, I suggest you buy an RX Smart Gear Jump Rope like the one I have:
I earn a commission if you make a purchase, at no additional cost to you. Thank you for the support!
Jump Rope Workouts Can Improve Your Coordination
Jump rope workouts are excellent for your coordination. Although jumping rope is not very difficult for most people, it is an excellent workout way to become more coordinated and have greater control over your body.
Jump Rope Workouts Burn A Lot of Calories In a Small Amount of Time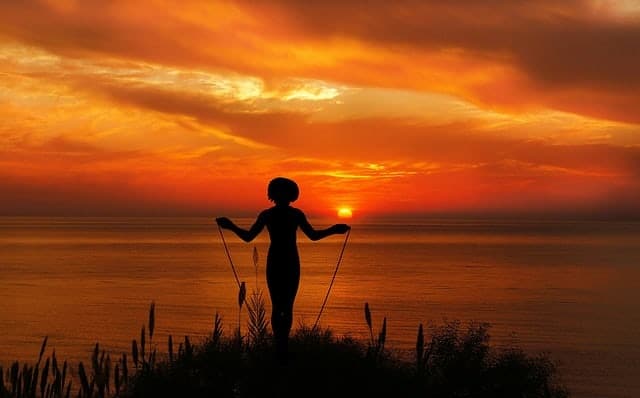 Jump rope workouts are an excellent way to burn calories and lose weight fast.
With about 0.1 calories burned for every jump, a jump rope workout can help you burn up to 1300 calories within an hour of intense activity!
You can also easily use a jump rope as a part of a High-Intensity Interval Training workout, which could burn even more calories than that quickly!
Doing ten minutes of rope jumping to warm up and ten minutes to cool down can easily burn 300 calories!
Jump Rope Workouts Enhance Bone Density
Weight-bearing exercises are one of the best ways to enhance bone density over your lifespan, but many weight-bearing exercises can cause joint pain or other problems when performed too frequently or incorrectly.
Along with eating a healthy diet and using safe and effective supplements for bone health, jumping rope is a great way to enhance your bone density safely.
Jump Rope Workouts Can Make You Smarter
The Jump Rope Institute explained that jump roping could make you more intelligent because it enhances the development of your brain's right and left hemispheres, improving your reading skill, spatial awareness, memory, and mental alertness.
The more difficult of style or longer you jump rope, the more benefit you will receive in these capacities.
The Best Jump Rope Workouts
There are tons of jump rope workouts that you can do, but here are the two I believe are the best jump rope workouts:
Best Jump Rope Workout for Beginners
If you are a beginner, I suggest you try doing a jump rope workout where you do 15 seconds of jumping followed by 15 seconds of rest, for 5-10 minutes. You can alternate between one-foot and two-foot jumping, but this is a good interval protocol for beginners.
After a while, you can increase the work to rest ratio to make your jump rope workouts more challenging!
The Best Jump Rope Workout for Endurance
I have tried many different jump rope workouts, but first, I will tell you my absolute favorite!
The best jump rope workout is 40 seconds of high-intensity jumping followed by 20 seconds of rest.
For a new trainee, I recommend starting with 4-5 sets of this and then working your way up. Twenty minutes of this jump rope workout will be fatiguing for almost all athletes, and I definitely suggest working towards this!
The Best Jump Rope Workout for Weight Loss
Another of my favorite tactics for getting my jump rope workout in is to do sets of 30-45 seconds between each exercise during weight training workouts.
You don't even need to do it for the entire workout!
For your first 10-12 total sets, try doing 30-45 seconds of jump roping in between.
Your heart rate will elevate, and you will become a fat-burning machine!  If you are feeling daring, try to do this through your whole workout!
It's not easy, but it is worth it!
The Best Jump Rope
If you are looking for a good jump rope, I suggest you check out the ones from RX Smart Gear.
In 2016 I purchased three different colors/weights from them and could not be happier because I still am using them!
The price is reasonable, and the quality is impeccable!
I earn a commission if you make a purchase, at no additional cost to you. Thank you for the support!
Concluding Thoughts – Should You Do Jump Rope Workouts?
Consistently sticking with a jump rope workout program is a great way to improve your cardiovascular conditioning while burning a lot of calories quickly.
If you do jump rope workouts weekly, I am confident you will love the results!
You should always consult a doctor before beginning any exercise program, but jump rope workouts are generally safe, and many people can enjoy the benefits of jumping rope!