Gone are the days when you could happily survive in one pair of shoes. With the development of interest in exercising and running over time among the general public, footwear and its types have also advanced in nature growing from one to hundreds of types you can find in the market.
Giving the following a read will definitely give you a clear idea of how to select the right pair of shoe for your exercise routine.
1. Gym Shoes
Since one can't possibly stick to a specific exercising regime throughout the gym training, its best to invest in a pair of cross trainers. We reach out to an industry expert; Brian Bradshaw of Boot Bomb who explains why you should be investing in cross trainers.
According to Brian, the trainers have a rigid metatarsal support i.e. side to side support. Secondly, these shoes won't have a lot of heel cushioning, contrary to running shoes. These shoes are lightweight and are perfect for a variety of exercises.
"Cross trainers sustain pressure when you run and provide ample cushioning to the entire foot to keep you comfortable regardless of the exercise you've chosen." he further adds.
2. Running Shoes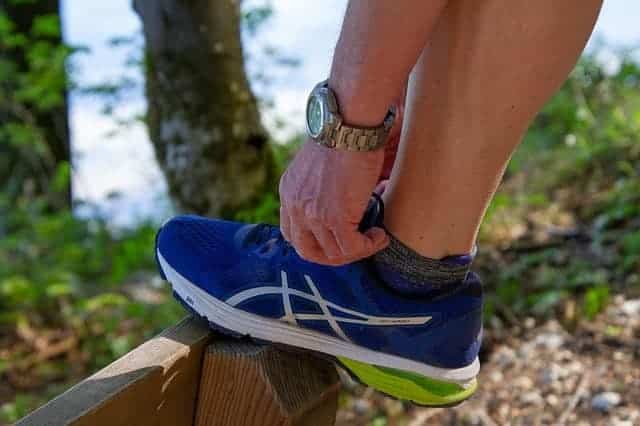 The best running shoe is one that fits your foot perfectly. For that you need to understand the structure of your foot first i.e. whether you're flat footed or high arched. To determine that, you can do a wet test on brown paper or analyze the inner sole of a frequently worn pair.
If you've got flat feet, the perfect running shoes should have motion control since your foot is more prone to rolling inwards. If however, you're not flat footed, then your arches would be high allowing your feet to roll outwards. A shoe with a soft midsole and cushioning on the sides will suffice for high arched feet.
3. Weightlifting Shoes
Weightlifting shoes are different from running shoes in the sense that when one lift weights, one needs to have a flat grip on the ground.
Running shoes are equipped with cushioning to absorb the impact incurred with every step.
These shoes should have a raised heel allowing you to squat deeper and be in a more upright sitting position.
This is made possible with an increased ankle's range of motion. Most people also find flat soled shoes perfectly alright for the purpose, but one needs to see what suits them best. If you have a pair of barefoot running styled shoes, they will also work.
4. Cycling Shoes
Cycling shoes are an expensive affair but if you're religiously sticking to your cycling schedule, then investing in a pair might not seem like a bad idea.
The most important thing to look for in biking shoes is that they hold your feet in place so that you don't slip off pedals. Good biking shoes are stiff to the feet in order to prevent cramping.
Some cycling shoes also come with clipless pedals, which allow stream-less transfer of energy and power. This gives you better control of the pedal making you feel like you've got every push and pull of the stroke under control.
Although cycling shoes are available in laces and straps, straps are always preferred over laces since they offer quick closure and stay securely tight.
Some Tips on Selecting the Right Pair
When going shoe shopping for sportswear, always be mindful of buying the shoes in the evening. This is because our feet tend to swell during the day and you might end up getting a bigger size for yourself.
Secondly, bring along a pair of socks that you'll be wearing to your gym class. If you use orthotics, bring those along too, so that your shoe fits perfectly with the orthotic in it.
A lot of people hesitate in trying out the opposite gender's shoes. Always remember that there's no discrimination between men and women when it comes to trainers. Try those on and if they fit better, get them without thinking twice.
If the shopkeeper tells you the shoes will fit better in a couple of days, never believe them. Trainers are supposed to feel comfortable right away and if they don't, they're not the right ones for you.
Happy Shoe shopping!